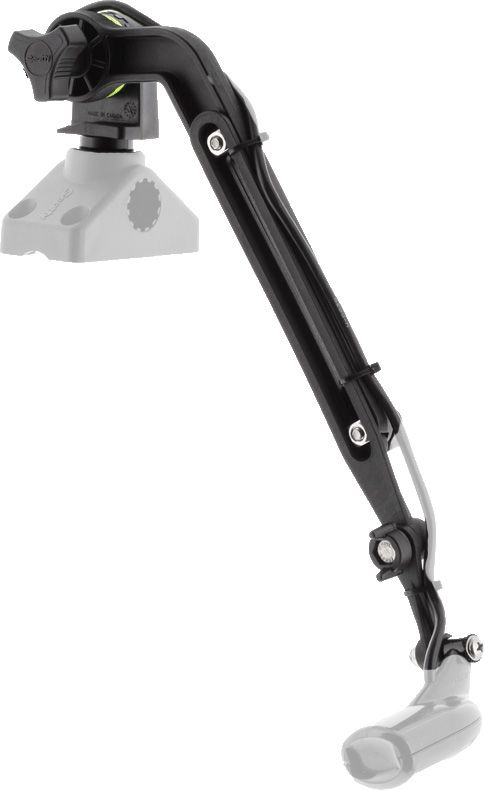 IMAGE ZOOM VIEWER CONTROLS
Click to zoom in or click
Double click to zoom out or click
Click to reset image
The Scotty Transducer Arm Mount - Deck Mount 140 has been developed for kayak anglers needing an easy way to install and remove transducers for transport. This Kayak/SUP Transducer Mounting Arm made of high strength composite material will give you years of service without any corrosion problems. Also included is the 415 Slip Discs that offer micro adjustments when needed. The Scotty Transducer mount telescopes from a compact 11.5 inches to 18 inches when fully extended and swivels 360 degrees. Includes the ever popular Scotty post mount that fits into any Scotty Rod Holder Mount.




Telescopes from a compact 11.5 inches to 18 inches
Quick and easy release
Easy to adapt to multiple Scotty bases for a variety of mounting options using the post mount
415 Slip Discs included for micro adjustments
Made of high strength composite
Discounts and/or coupons do not apply to this item




| | |
| --- | --- |
| Size/Color | Part Number |
| | 0140 |
RAM Products
| Manufacturer | Model | Part Number |
| --- | --- | --- |
| Eagle | Cuda 128 | RAM-B-107-1 |
| Eagle | Cuda 168 | RAM-B-107-1 |
| Eagle | Cuda 242 | RAM-B-107-1 |
| Eagle | Cuda 250 S/MAP | RAM-B-107-1 |
| Eagle | Cuda 250I S/MAP | RAM-B-107-1 |
| Eagle | Fisheasy 240 | RAM-B-107-1 |
| Eagle | Fisheasy 245DS | RAM-B-107-1 |
| Eagle | Fisheasy 320 | RAM-B-107-1 |
| Eagle | Fishlite 480 | RAM-B-111 |
| Eagle | Fishlite 500C | RAM-B-111 |
| Eagle | Fishlite 502C IGPS | RAM-B-111 |
| Eagle | Fishlite 640C | RAM-B-111 |
| Eagle | Fishlite 642C IGPS | RAM-B-111 |
| Eagle | Fishmark 320 | RAM-B-111 |
| Eagle | Fishmark 480 | RAM-B-111 |
| Eagle | Fishmark 500C | RAM-B-111 |
| Garmin | Fishfinder 100 | RAM-B-111 |
| Garmin | Fishfinder 100 Blue | RAM-B-111 |
| Garmin | Fishfinder 160 | RAM-B-111 |
| Garmin | Fishfinder 160 Blue | RAM-B-111 |
| Garmin | Fishfinder 160C | RAM-B-111 |
| Garmin | Fishfinder 240 | RAM-B-111 |
| Garmin | Fishfinder 240 Blue | RAM-B-111 |
| Garmin | Fishfinder 300C | RAM-B-111 |
| Garmin | Fishfinder 320C | RAM-B-111 |
| Garmin | Fishfinder 340C | RAM-B-111 |
| Humminbird | 100 Series | RAM-B-107 |
| Humminbird | 300 Series | RAM-B-107 |
| Humminbird | 500 Series | RAM-B-107 |
| Humminbird | 700 Series | RAM-B-107 |
| Humminbird | Fishfinder 515 | RAM-B-107 |
| Humminbird | Fishfinder 525 | RAM-B-107 |
| Humminbird | Fishfinder 535 | RAM-B-107 |
| Humminbird | Fishfinder 565 | RAM-B-107 |
| Humminbird | Fishfinder 585c | RAM-B-107 |
| Humminbird | Fishfinder 595c | RAM-B-107 |
| Humminbird | Matrix 10 | RAM-B-107 |
| Humminbird | Matrix 12 | RAM-B-107 |
| Humminbird | Matrix 17 | RAM-B-107 |
| Humminbird | Matrix 27 | RAM-B-107 |
| Humminbird | Matrix 37 | RAM-B-107 |
| Humminbird | Matrix 47-3D | RAM-B-107 |
| Humminbird | Matrix 67 | RAM-B-107 |
| Humminbird | Matrix 77c | RAM-B-107 |
| Humminbird | Matrix 87c | RAM-B-107 |
| Humminbird | Matrix 97 | RAM-B-111 |
| Humminbird | Piranha Max 10 | RAM-B-107-1 |
| Humminbird | Piranha Max 15 | RAM-B-107-1 |
| Humminbird | Piranha Max 20 | RAM-B-107-1 |
| Humminbird | Piranha Series | RAM-B-107-1 |
| Lowrance | GLOBALMAP 5150C | RAM-111 |
| Lowrance | GLOBALMAP 5200C | RAM-111 |
| Lowrance | GLOBALMAP 5300C IGPS | RAM-111 |
| Lowrance | GLOBALMAP 7200C | RAM-111 |
| Lowrance | GLOBALMAP 8200C | RAM-111 |
| Lowrance | GLOBALMAP 9200C | RAM-111 |
| Lowrance | HDS-5 | RAM-111 |
| Lowrance | HDS-5M | RAM-111 |
| Lowrance | HDS-5X | RAM-111 |
| Lowrance | LCX 37C | RAM-111 |
| Lowrance | LCX-112C | RAM-111 |
| Lowrance | LCX-113C HD | RAM-111 |
| Lowrance | LCX-27C | RAM-111 |
| Lowrance | LCX-28C HD | RAM-111 |
| Lowrance | LCX-38C HD | RAM-111 |
| Lowrance | LMS-337C DF | RAM-111 |
| Lowrance | LMS-480M | RAM-111 |
| Lowrance | LMS-480M DF | RAM-111 |
| Lowrance | LMS-520C | RAM-111 |
| Lowrance | LMS-522C | RAM-111 |
| Lowrance | LMS-525C DF | RAM-111 |
| Lowrance | LMS-527C DF IGPS | RAM-111 |
| Lowrance | M52I S GPS | RAM-B-107-1 |
| Lowrance | M56 S Map | RAM-B-107-1 |
| Lowrance | M56I S Map | RAM-B-107-1 |
| Lowrance | M68C S Map | RAM-B-107-1 |
| Lowrance | M68C S Map ICEMACHINE | RAM-B-107-1 |
| Lowrance | M68I S Map | RAM-B-107-1 |
| Lowrance | X102C | RAM-111 |
| Lowrance | X107C DF | RAM-111 |
| Lowrance | X125 | RAM-111 |
| Lowrance | X126 DF | RAM-111 |
| Lowrance | X135 | RAM-111 |
| Lowrance | X136 DF | RAM-111 |
| Lowrance | X47 | RAM-111 |
| Lowrance | X47EX | RAM-111 |
| Lowrance | X47X52 | RAM-111 |
| Lowrance | X47X59 DF | RAM-111 |
| Lowrance | X47X67C | RAM-111 |
| Lowrance | X47X67C ICEMACHINE | RAM-111 |
| Lowrance | X50 DS | RAM-B-107-1 |
| Lowrance | X510C | RAM-111 |
| Lowrance | X515C DF | RAM-111 |
| Lowrance | X52 | RAM-111 |
| Lowrance | X59 DF | RAM-111 |
| Lowrance | X67C | RAM-B-107-1 |
| Lowrance | X67C ICEMACHINE | RAM-B-107-1 |
| Lowrance | X96 | RAM-111 |
California Residents:
About California Proposition 65
California's Proposition 65 entitles California consumers to special warnings for products that contain chemicals known to the state of California to cause cancer and birth defects or other reproductive harm if those products expose consumers to such chemicals above certain threshold levels. We care about our customers' safety and hope that the information below helps with your buying decisions.
We are providing the following warning for products linked to this page:
WARNING: This product may contain chemicals known to the State of California to cause cancer and birth defects or other reproductive harm.
For more information regarding Proposition 65, please visit the California State's website regarding Proposition 65 Here.
By:
Anonymous
Date:
Aug 31, 2019
Great product. Perfect for using on a canoe
By:
Terry
Date:
Apr 07, 2018
Verified Buyer
The Scotty Transducer Arm Mount - Deck Mount 140, is an excellent product. I used it to mount my Garmin CV51 Transducer for my Garmin Echomap 74SV fishfinder/chartplotter on my Kayak. This is a very large transducer but so far the arm mount is holding it just fine. My transducer came with the transome mount which worked just fine with the addition of a few washers added as spacers. I liked it that it it included some slip disks as where it's mounted I can't reach it when seated in the kayak. When launching the kayak I can't have the transducer dragging so it's adjusted off the water and after I push off I just use the paddle end to push it down into the water and vice versa when I get close to the shore. It's very adjustable for angle and depth and works perfect for a kayak.
Top Question & Answer
Q: My old town vapor has a very round bow, the flattest part is right in the enter. Will the locking deck mount bracket work at a slight angle? 30 degrees or so?
A: We have seen this part and the mount installed on Vapor's before. you can ad "shims" so it does not put to much force on the kayak once its tighten.
3
people
found this helpful.
Q: I would like to use this on a Roundabout Watercraft. what is the length of the arm and what type of mounting hardware is included?
A: This telescopes from 11.5" to 18" and comes with the deck mount and bolts that you would need to attach it to your kayak.
0
people
found this helpful.
Q: Is this mount compatible with a Lowrance Hook 4X DSI transducer?
A: Yes, this transducer arm is compatible with the Hook 4x Transducer
0
people
found this helpful.