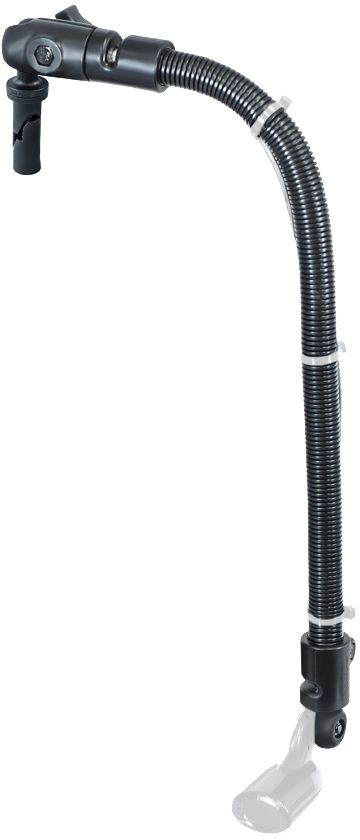 IMAGE ZOOM VIEWER CONTROLS
Click to zoom in or click
Double click to zoom out or click
Click to reset image
The RAM Transducer Arm Mount with Wedge Base enables the quick and effective deployment and retrieval of your transducer while protecting it from damage. Perfect for kayak applications, the transducer arm can quickly be retrieved if you enter shallow water or when beaching your kayak. With little effort, the arm can quickly be moved to a different kayak and attached to an existing flush mount or 1 in. RAM ball. The unique design provides a universal solution for virtually any kayak as well as any transducer. Wedge is compatible with Scotty bases. Transducer sold separately.




18 in. rigid aluminum rod can be bent to position your transducer to its optimum viewing location
Socket technology allows for quick raising, lowering, removal and stowage of transducer arm
1 in. RAM ball
Wedge is compatible with Scotty bases
Transducer arm mount is compatible with all transducers that contain a 1/4 in. screw diameter.
Discounts and/or coupons do not apply to this item




| | |
| --- | --- |
| Size/Color | Part Number |
| | RAM-B-316-18TRA1-354 |
| | | | | | |
| --- | --- | --- | --- | --- | --- |
| Material | Aluminum/Composite | Made in | USA | | |
More Videos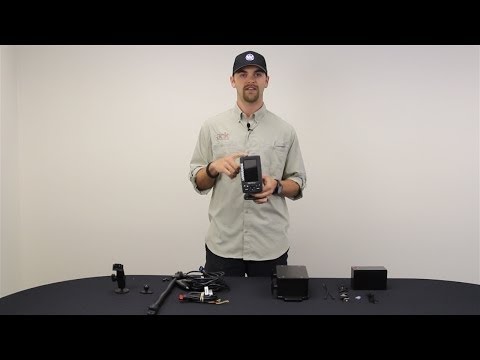 Installing a Fish Finder with the Ram Transducer Arm
RAM Transducer Arm Assembly
RAM Products
| Manufacturer | Model | Part Number |
| --- | --- | --- |
| Eagle | Cuda 128 | RAM-B-107-1 |
| Eagle | Cuda 168 | RAM-B-107-1 |
| Eagle | Cuda 242 | RAM-B-107-1 |
| Eagle | Cuda 250 S/MAP | RAM-B-107-1 |
| Eagle | Cuda 250I S/MAP | RAM-B-107-1 |
| Eagle | Fisheasy 240 | RAM-B-107-1 |
| Eagle | Fisheasy 245DS | RAM-B-107-1 |
| Eagle | Fisheasy 320 | RAM-B-107-1 |
| Eagle | Fishlite 480 | RAM-B-111 |
| Eagle | Fishlite 500C | RAM-B-111 |
| Eagle | Fishlite 502C IGPS | RAM-B-111 |
| Eagle | Fishlite 640C | RAM-B-111 |
| Eagle | Fishlite 642C IGPS | RAM-B-111 |
| Eagle | Fishmark 320 | RAM-B-111 |
| Eagle | Fishmark 480 | RAM-B-111 |
| Eagle | Fishmark 500C | RAM-B-111 |
| Garmin | Fishfinder 100 | RAM-B-111 |
| Garmin | Fishfinder 100 Blue | RAM-B-111 |
| Garmin | Fishfinder 160 | RAM-B-111 |
| Garmin | Fishfinder 160 Blue | RAM-B-111 |
| Garmin | Fishfinder 160C | RAM-B-111 |
| Garmin | Fishfinder 240 | RAM-B-111 |
| Garmin | Fishfinder 240 Blue | RAM-B-111 |
| Garmin | Fishfinder 300C | RAM-B-111 |
| Garmin | Fishfinder 320C | RAM-B-111 |
| Garmin | Fishfinder 340C | RAM-B-111 |
| Humminbird | 100 Series | RAM-B-107 |
| Humminbird | 300 Series | RAM-B-107 |
| Humminbird | 500 Series | RAM-B-107 |
| Humminbird | 700 Series | RAM-B-107 |
| Humminbird | Fishfinder 515 | RAM-B-107 |
| Humminbird | Fishfinder 525 | RAM-B-107 |
| Humminbird | Fishfinder 535 | RAM-B-107 |
| Humminbird | Fishfinder 565 | RAM-B-107 |
| Humminbird | Fishfinder 585c | RAM-B-107 |
| Humminbird | Fishfinder 595c | RAM-B-107 |
| Humminbird | Matrix 10 | RAM-B-107 |
| Humminbird | Matrix 12 | RAM-B-107 |
| Humminbird | Matrix 17 | RAM-B-107 |
| Humminbird | Matrix 27 | RAM-B-107 |
| Humminbird | Matrix 37 | RAM-B-107 |
| Humminbird | Matrix 47-3D | RAM-B-107 |
| Humminbird | Matrix 67 | RAM-B-107 |
| Humminbird | Matrix 77c | RAM-B-107 |
| Humminbird | Matrix 87c | RAM-B-107 |
| Humminbird | Matrix 97 | RAM-B-111 |
| Humminbird | Piranha Max 10 | RAM-B-107-1 |
| Humminbird | Piranha Max 15 | RAM-B-107-1 |
| Humminbird | Piranha Max 20 | RAM-B-107-1 |
| Humminbird | Piranha Series | RAM-B-107-1 |
| Lowrance | GLOBALMAP 5150C | RAM-111 |
| Lowrance | GLOBALMAP 5200C | RAM-111 |
| Lowrance | GLOBALMAP 5300C IGPS | RAM-111 |
| Lowrance | GLOBALMAP 7200C | RAM-111 |
| Lowrance | GLOBALMAP 8200C | RAM-111 |
| Lowrance | GLOBALMAP 9200C | RAM-111 |
| Lowrance | HDS-5 | RAM-111 |
| Lowrance | HDS-5M | RAM-111 |
| Lowrance | HDS-5X | RAM-111 |
| Lowrance | LCX 37C | RAM-111 |
| Lowrance | LCX-112C | RAM-111 |
| Lowrance | LCX-113C HD | RAM-111 |
| Lowrance | LCX-27C | RAM-111 |
| Lowrance | LCX-28C HD | RAM-111 |
| Lowrance | LCX-38C HD | RAM-111 |
| Lowrance | LMS-337C DF | RAM-111 |
| Lowrance | LMS-480M | RAM-111 |
| Lowrance | LMS-480M DF | RAM-111 |
| Lowrance | LMS-520C | RAM-111 |
| Lowrance | LMS-522C | RAM-111 |
| Lowrance | LMS-525C DF | RAM-111 |
| Lowrance | LMS-527C DF IGPS | RAM-111 |
| Lowrance | M52I S GPS | RAM-B-107-1 |
| Lowrance | M56 S Map | RAM-B-107-1 |
| Lowrance | M56I S Map | RAM-B-107-1 |
| Lowrance | M68C S Map | RAM-B-107-1 |
| Lowrance | M68C S Map ICEMACHINE | RAM-B-107-1 |
| Lowrance | M68I S Map | RAM-B-107-1 |
| Lowrance | X102C | RAM-111 |
| Lowrance | X107C DF | RAM-111 |
| Lowrance | X125 | RAM-111 |
| Lowrance | X126 DF | RAM-111 |
| Lowrance | X135 | RAM-111 |
| Lowrance | X136 DF | RAM-111 |
| Lowrance | X47 | RAM-111 |
| Lowrance | X47EX | RAM-111 |
| Lowrance | X47X52 | RAM-111 |
| Lowrance | X47X59 DF | RAM-111 |
| Lowrance | X47X67C | RAM-111 |
| Lowrance | X47X67C ICEMACHINE | RAM-111 |
| Lowrance | X50 DS | RAM-B-107-1 |
| Lowrance | X510C | RAM-111 |
| Lowrance | X515C DF | RAM-111 |
| Lowrance | X52 | RAM-111 |
| Lowrance | X59 DF | RAM-111 |
| Lowrance | X67C | RAM-B-107-1 |
| Lowrance | X67C ICEMACHINE | RAM-B-107-1 |
| Lowrance | X96 | RAM-111 |
California Residents:
About California Proposition 65
California's Proposition 65 entitles California consumers to special warnings for products that contain chemicals known to the state of California to cause cancer and birth defects or other reproductive harm if those products expose consumers to such chemicals above certain threshold levels. We care about our customers' safety and hope that the information below helps with your buying decisions.
We are providing the following warning for products linked to this page:
WARNING: This product may contain chemicals known to the State of California to cause cancer and birth defects or other reproductive harm.
For more information regarding Proposition 65, please visit the California State's website regarding Proposition 65 Here.
By:
James H.
Date:
Nov 08, 2015
Verified Buyer
Pretty much useless for my Jackson Kayak. ACk didn't know if it would fit my mount so I called RAM and they assured me it would. Well, it didn't, so I ended up cutting a piece of dowel, sanding it down until the dowel fit, inserting it and drilling a hole and screwing it down . Then I mounted the ram ball on the end ,. Then mounted the shaft and transducer. Works ok, but the ball and mount isn't strong enough to hold the transducer out of the water by itself. Have to pretty much take it off if I am in rough water. Would probably be ok in calm water. ACK was very helpful, but I ended up making my own mount for that works much better.
By:
Andy
Date:
Feb 20, 2015
Verified Buyer
Seems to be a solid project so far. Pros: No Drilling Required Lowance transducer bolted right to it Easy assembly and install Transducer sits below water line but above the bottom of the hull so dont have to worry about it in shallow water Cons: Only fits the small RAM ball mounts The plastic tubing that covers the aluminum rod seems cheap If you bend the rod the wrong way youre screwed
Top Question & Answer
Q: Does the wedge base lock into a Scotty mount or does it just slide in loosely?
A: It will fit perfectly on the Scotty base and will not be loose.
1
person
found this helpful.
Q: Will this work with a Scotty Flush Mount Bracket with Splash Cover 244?
A: Yes it will
1
person
found this helpful.