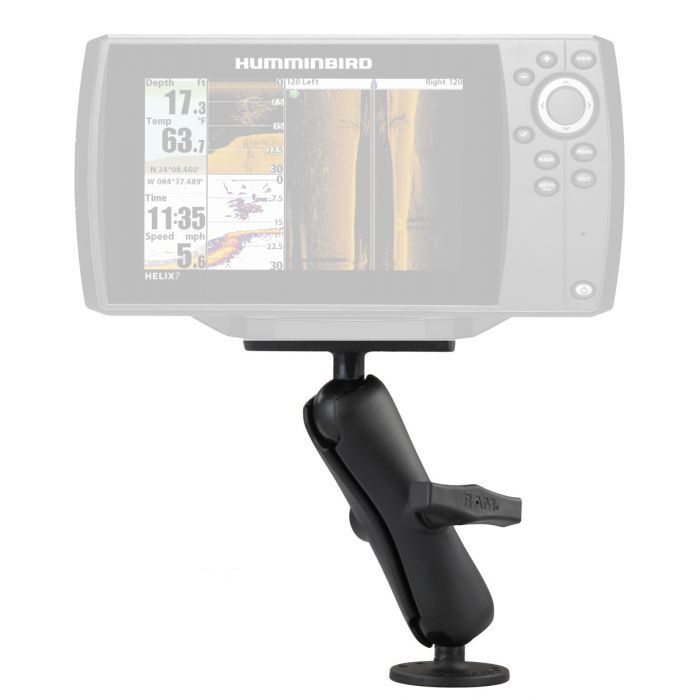 IMAGE ZOOM VIEWER CONTROLS
Click to zoom in or click
Double click to zoom out or click
Click to reset image
The RAM Mount for Humminbird HELIX 7 Series specifically fits the Humminbird Helix 7 Fishfinder series head units so you can mount them to your kayak or boat. RAM is the revolutionary universal ball and socket mounting system that allows you to mount practically anything anywhere. Unlike other mounts on the market, RAM allows you to mount items where you need them most. If you need to mount a Rod Holder, GPS or Fish Finder look no further. RAM mounts will help you make a professional job easy. Its unique design provides easy installation, mobility, strength, versatility, vibration protection and durability, all at a low cost. To provide light weight strength and corrosion resistance, RAM is made of marine grade aluminum with a powder coated finish, stainless steel hardware and rubber balls.




Made of marine grade aluminum with a powder coated finish
Works with 1.5"Ram Ball Alternate Bases
Backing Plate and Hardware not included
Specifically made for Humminbird 7 Helix Fishfinders
Allows for infinite adjustment and multiple viewing angles
Discounts and/or coupons do not apply to this item




| | |
| --- | --- |
| Size/Color | Part Number |
| | RAM-202-24-202 |
| | | | | | |
| --- | --- | --- | --- | --- | --- |
| Length | 4 in / 10.16 cm | Width | 2 in / 5.08 cm | Made in | USA |
RAM Products
| Manufacturer | Model | Part Number |
| --- | --- | --- |
| Eagle | Cuda 128 | RAM-B-107-1 |
| Eagle | Cuda 168 | RAM-B-107-1 |
| Eagle | Cuda 242 | RAM-B-107-1 |
| Eagle | Cuda 250 S/MAP | RAM-B-107-1 |
| Eagle | Cuda 250I S/MAP | RAM-B-107-1 |
| Eagle | Fisheasy 240 | RAM-B-107-1 |
| Eagle | Fisheasy 245DS | RAM-B-107-1 |
| Eagle | Fisheasy 320 | RAM-B-107-1 |
| Eagle | Fishlite 480 | RAM-B-111 |
| Eagle | Fishlite 500C | RAM-B-111 |
| Eagle | Fishlite 502C IGPS | RAM-B-111 |
| Eagle | Fishlite 640C | RAM-B-111 |
| Eagle | Fishlite 642C IGPS | RAM-B-111 |
| Eagle | Fishmark 320 | RAM-B-111 |
| Eagle | Fishmark 480 | RAM-B-111 |
| Eagle | Fishmark 500C | RAM-B-111 |
| Garmin | Fishfinder 100 | RAM-B-111 |
| Garmin | Fishfinder 100 Blue | RAM-B-111 |
| Garmin | Fishfinder 160 | RAM-B-111 |
| Garmin | Fishfinder 160 Blue | RAM-B-111 |
| Garmin | Fishfinder 160C | RAM-B-111 |
| Garmin | Fishfinder 240 | RAM-B-111 |
| Garmin | Fishfinder 240 Blue | RAM-B-111 |
| Garmin | Fishfinder 300C | RAM-B-111 |
| Garmin | Fishfinder 320C | RAM-B-111 |
| Garmin | Fishfinder 340C | RAM-B-111 |
| Humminbird | 100 Series | RAM-B-107 |
| Humminbird | 300 Series | RAM-B-107 |
| Humminbird | 500 Series | RAM-B-107 |
| Humminbird | 700 Series | RAM-B-107 |
| Humminbird | Fishfinder 515 | RAM-B-107 |
| Humminbird | Fishfinder 525 | RAM-B-107 |
| Humminbird | Fishfinder 535 | RAM-B-107 |
| Humminbird | Fishfinder 565 | RAM-B-107 |
| Humminbird | Fishfinder 585c | RAM-B-107 |
| Humminbird | Fishfinder 595c | RAM-B-107 |
| Humminbird | Matrix 10 | RAM-B-107 |
| Humminbird | Matrix 12 | RAM-B-107 |
| Humminbird | Matrix 17 | RAM-B-107 |
| Humminbird | Matrix 27 | RAM-B-107 |
| Humminbird | Matrix 37 | RAM-B-107 |
| Humminbird | Matrix 47-3D | RAM-B-107 |
| Humminbird | Matrix 67 | RAM-B-107 |
| Humminbird | Matrix 77c | RAM-B-107 |
| Humminbird | Matrix 87c | RAM-B-107 |
| Humminbird | Matrix 97 | RAM-B-111 |
| Humminbird | Piranha Max 10 | RAM-B-107-1 |
| Humminbird | Piranha Max 15 | RAM-B-107-1 |
| Humminbird | Piranha Max 20 | RAM-B-107-1 |
| Humminbird | Piranha Series | RAM-B-107-1 |
| Lowrance | GLOBALMAP 5150C | RAM-111 |
| Lowrance | GLOBALMAP 5200C | RAM-111 |
| Lowrance | GLOBALMAP 5300C IGPS | RAM-111 |
| Lowrance | GLOBALMAP 7200C | RAM-111 |
| Lowrance | GLOBALMAP 8200C | RAM-111 |
| Lowrance | GLOBALMAP 9200C | RAM-111 |
| Lowrance | HDS-5 | RAM-111 |
| Lowrance | HDS-5M | RAM-111 |
| Lowrance | HDS-5X | RAM-111 |
| Lowrance | LCX 37C | RAM-111 |
| Lowrance | LCX-112C | RAM-111 |
| Lowrance | LCX-113C HD | RAM-111 |
| Lowrance | LCX-27C | RAM-111 |
| Lowrance | LCX-28C HD | RAM-111 |
| Lowrance | LCX-38C HD | RAM-111 |
| Lowrance | LMS-337C DF | RAM-111 |
| Lowrance | LMS-480M | RAM-111 |
| Lowrance | LMS-480M DF | RAM-111 |
| Lowrance | LMS-520C | RAM-111 |
| Lowrance | LMS-522C | RAM-111 |
| Lowrance | LMS-525C DF | RAM-111 |
| Lowrance | LMS-527C DF IGPS | RAM-111 |
| Lowrance | M52I S GPS | RAM-B-107-1 |
| Lowrance | M56 S Map | RAM-B-107-1 |
| Lowrance | M56I S Map | RAM-B-107-1 |
| Lowrance | M68C S Map | RAM-B-107-1 |
| Lowrance | M68C S Map ICEMACHINE | RAM-B-107-1 |
| Lowrance | M68I S Map | RAM-B-107-1 |
| Lowrance | X102C | RAM-111 |
| Lowrance | X107C DF | RAM-111 |
| Lowrance | X125 | RAM-111 |
| Lowrance | X126 DF | RAM-111 |
| Lowrance | X135 | RAM-111 |
| Lowrance | X136 DF | RAM-111 |
| Lowrance | X47 | RAM-111 |
| Lowrance | X47EX | RAM-111 |
| Lowrance | X47X52 | RAM-111 |
| Lowrance | X47X59 DF | RAM-111 |
| Lowrance | X47X67C | RAM-111 |
| Lowrance | X47X67C ICEMACHINE | RAM-111 |
| Lowrance | X50 DS | RAM-B-107-1 |
| Lowrance | X510C | RAM-111 |
| Lowrance | X515C DF | RAM-111 |
| Lowrance | X52 | RAM-111 |
| Lowrance | X59 DF | RAM-111 |
| Lowrance | X67C | RAM-B-107-1 |
| Lowrance | X67C ICEMACHINE | RAM-B-107-1 |
| Lowrance | X96 | RAM-111 |
California Residents:
About California Proposition 65
California's Proposition 65 entitles California consumers to special warnings for products that contain chemicals known to the state of California to cause cancer and birth defects or other reproductive harm if those products expose consumers to such chemicals above certain threshold levels. We care about our customers' safety and hope that the information below helps with your buying decisions.
We are providing the following warning for products linked to this page:
WARNING: This product may contain chemicals known to the State of California to cause cancer and birth defects or other reproductive harm.
For more information regarding Proposition 65, please visit the California State's website regarding Proposition 65 Here.
By:
YaketyYak
Date:
Mar 24, 2020
Not a fan of RAM in general due to the fact that I believe they're overpriced. That being said it is a quality product and for this particular application it fits the bill. Mounted on a marine plate on a kayak the swing arm grants a great degree of versatility. The lock down is positive and very stable. I am a little disappointed in the availability of different product configurations. I had some older RAM hardware and didn't need to purchase the entire assembly offered but, couldn't get sufficient customer service or product feedback to fine tune my purchase. Hence, I bought what I believe is an over sized item (the 1.5" ball rather than the 1" ). I found a receiver with the smaller ball but was unable to ascertain it's compatibility with my fish finder. This is the reason for the 4 star rating it's not the product proper but customer service related, both manufacturer and retailer. Sorry guys but you asked.
Amazing service , fast shipping . Appreciate you guys!
Top Question & Answer
Q: Will this mount work on the Helix 5?
A: Thanks for contacting us at ACK! No the Helix 7 ram mount will not work for the Helix 5
3
people
found this helpful.
Q: Does this work with the Lowrance HDS7 GEN2 touch? Thanks.
A: No, this is specifically designed for the Humminbird Helix 7 Series
0
people
found this helpful.
Q: What all comes with this?
A: Comes with the base, the arm and the platform.
1
person
found this helpful.