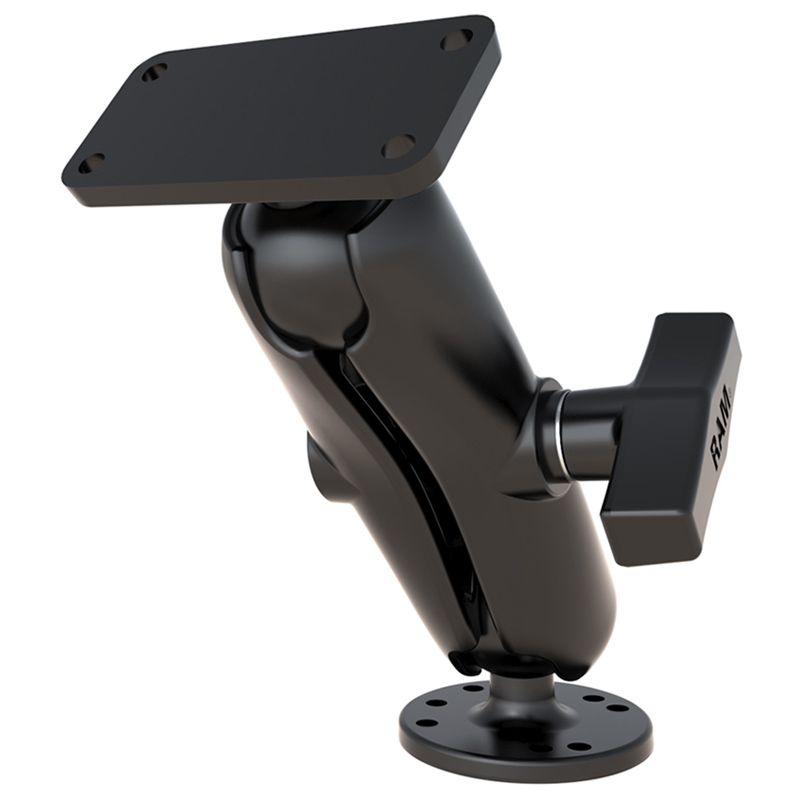 IMAGE ZOOM VIEWER CONTROLS
Click to zoom in or click
Double click to zoom out or click
Click to reset image
The RAM Mount for Humminbird HELIX 5 Series specifically fits the Humminbird Helix 5 Fishfinder series head units so you can mount them to your kayak or boat. RAM is the revolutionary universal ball and socket mounting system that allows you to mount practically anything anywhere. Unlike other mounts on the market, RAM allows you to mount items where you need them most. If you need to mount a Rod Holder, GPS or Fish Finder look no further. RAM mounts will help you make a professional job easy. Its unique design provides easy installation, mobility, strength, versatility, vibration protection and durability, all at a low cost. To provide light weight strength and corrosion resistance, RAM is made of marine grade aluminum with a powder coated finish, stainless steel hardware and rubber balls.




Made of marine grade aluminum with a powder coated finish
Works with 1.5" Ram Ball Alternate Bases
Backing Plate and Hardware not included
Specifically made for Humminbird Helix 5
Allows for infinite adjustment and multiple viewing angles
Discounts and/or coupons do not apply to this item




| | |
| --- | --- |
| Size/Color | Part Number |
| | RAM-202-153-202 |
More Videos
RAM Products
| Manufacturer | Model | Part Number |
| --- | --- | --- |
| Eagle | Cuda 128 | RAM-B-107-1 |
| Eagle | Cuda 168 | RAM-B-107-1 |
| Eagle | Cuda 242 | RAM-B-107-1 |
| Eagle | Cuda 250 S/MAP | RAM-B-107-1 |
| Eagle | Cuda 250I S/MAP | RAM-B-107-1 |
| Eagle | Fisheasy 240 | RAM-B-107-1 |
| Eagle | Fisheasy 245DS | RAM-B-107-1 |
| Eagle | Fisheasy 320 | RAM-B-107-1 |
| Eagle | Fishlite 480 | RAM-B-111 |
| Eagle | Fishlite 500C | RAM-B-111 |
| Eagle | Fishlite 502C IGPS | RAM-B-111 |
| Eagle | Fishlite 640C | RAM-B-111 |
| Eagle | Fishlite 642C IGPS | RAM-B-111 |
| Eagle | Fishmark 320 | RAM-B-111 |
| Eagle | Fishmark 480 | RAM-B-111 |
| Eagle | Fishmark 500C | RAM-B-111 |
| Garmin | Fishfinder 100 | RAM-B-111 |
| Garmin | Fishfinder 100 Blue | RAM-B-111 |
| Garmin | Fishfinder 160 | RAM-B-111 |
| Garmin | Fishfinder 160 Blue | RAM-B-111 |
| Garmin | Fishfinder 160C | RAM-B-111 |
| Garmin | Fishfinder 240 | RAM-B-111 |
| Garmin | Fishfinder 240 Blue | RAM-B-111 |
| Garmin | Fishfinder 300C | RAM-B-111 |
| Garmin | Fishfinder 320C | RAM-B-111 |
| Garmin | Fishfinder 340C | RAM-B-111 |
| Humminbird | 100 Series | RAM-B-107 |
| Humminbird | 300 Series | RAM-B-107 |
| Humminbird | 500 Series | RAM-B-107 |
| Humminbird | 700 Series | RAM-B-107 |
| Humminbird | Fishfinder 515 | RAM-B-107 |
| Humminbird | Fishfinder 525 | RAM-B-107 |
| Humminbird | Fishfinder 535 | RAM-B-107 |
| Humminbird | Fishfinder 565 | RAM-B-107 |
| Humminbird | Fishfinder 585c | RAM-B-107 |
| Humminbird | Fishfinder 595c | RAM-B-107 |
| Humminbird | Matrix 10 | RAM-B-107 |
| Humminbird | Matrix 12 | RAM-B-107 |
| Humminbird | Matrix 17 | RAM-B-107 |
| Humminbird | Matrix 27 | RAM-B-107 |
| Humminbird | Matrix 37 | RAM-B-107 |
| Humminbird | Matrix 47-3D | RAM-B-107 |
| Humminbird | Matrix 67 | RAM-B-107 |
| Humminbird | Matrix 77c | RAM-B-107 |
| Humminbird | Matrix 87c | RAM-B-107 |
| Humminbird | Matrix 97 | RAM-B-111 |
| Humminbird | Piranha Max 10 | RAM-B-107-1 |
| Humminbird | Piranha Max 15 | RAM-B-107-1 |
| Humminbird | Piranha Max 20 | RAM-B-107-1 |
| Humminbird | Piranha Series | RAM-B-107-1 |
| Lowrance | GLOBALMAP 5150C | RAM-111 |
| Lowrance | GLOBALMAP 5200C | RAM-111 |
| Lowrance | GLOBALMAP 5300C IGPS | RAM-111 |
| Lowrance | GLOBALMAP 7200C | RAM-111 |
| Lowrance | GLOBALMAP 8200C | RAM-111 |
| Lowrance | GLOBALMAP 9200C | RAM-111 |
| Lowrance | HDS-5 | RAM-111 |
| Lowrance | HDS-5M | RAM-111 |
| Lowrance | HDS-5X | RAM-111 |
| Lowrance | LCX 37C | RAM-111 |
| Lowrance | LCX-112C | RAM-111 |
| Lowrance | LCX-113C HD | RAM-111 |
| Lowrance | LCX-27C | RAM-111 |
| Lowrance | LCX-28C HD | RAM-111 |
| Lowrance | LCX-38C HD | RAM-111 |
| Lowrance | LMS-337C DF | RAM-111 |
| Lowrance | LMS-480M | RAM-111 |
| Lowrance | LMS-480M DF | RAM-111 |
| Lowrance | LMS-520C | RAM-111 |
| Lowrance | LMS-522C | RAM-111 |
| Lowrance | LMS-525C DF | RAM-111 |
| Lowrance | LMS-527C DF IGPS | RAM-111 |
| Lowrance | M52I S GPS | RAM-B-107-1 |
| Lowrance | M56 S Map | RAM-B-107-1 |
| Lowrance | M56I S Map | RAM-B-107-1 |
| Lowrance | M68C S Map | RAM-B-107-1 |
| Lowrance | M68C S Map ICEMACHINE | RAM-B-107-1 |
| Lowrance | M68I S Map | RAM-B-107-1 |
| Lowrance | X102C | RAM-111 |
| Lowrance | X107C DF | RAM-111 |
| Lowrance | X125 | RAM-111 |
| Lowrance | X126 DF | RAM-111 |
| Lowrance | X135 | RAM-111 |
| Lowrance | X136 DF | RAM-111 |
| Lowrance | X47 | RAM-111 |
| Lowrance | X47EX | RAM-111 |
| Lowrance | X47X52 | RAM-111 |
| Lowrance | X47X59 DF | RAM-111 |
| Lowrance | X47X67C | RAM-111 |
| Lowrance | X47X67C ICEMACHINE | RAM-111 |
| Lowrance | X50 DS | RAM-B-107-1 |
| Lowrance | X510C | RAM-111 |
| Lowrance | X515C DF | RAM-111 |
| Lowrance | X52 | RAM-111 |
| Lowrance | X59 DF | RAM-111 |
| Lowrance | X67C | RAM-B-107-1 |
| Lowrance | X67C ICEMACHINE | RAM-B-107-1 |
| Lowrance | X96 | RAM-111 |
California Residents:
About California Proposition 65
California's Proposition 65 entitles California consumers to special warnings for products that contain chemicals known to the state of California to cause cancer and birth defects or other reproductive harm if those products expose consumers to such chemicals above certain threshold levels. We care about our customers' safety and hope that the information below helps with your buying decisions.
We are providing the following warning for products linked to this page:
WARNING: This product may contain chemicals known to the State of California to cause cancer and birth defects or other reproductive harm.
For more information regarding Proposition 65, please visit the California State's website regarding Proposition 65 Here.
By:
James C.
Date:
May 31, 2018
Verified Buyer
Purchased to install Helix 5 on a Eagle Talon 12, love the clean looks and capability to adjust the finder to any angle. The 1.5" balls on this mount make the positioning rock solid when tightened, no chance it is going to move due to waves or rough water. It did not come with screws to mount the finder to the base, nor did the finder come with any. You will need 4 small stainless screws, washers, and nuts to connect the two.
By:
cgt
Date:
Jan 10, 2016
Verified Buyer
Alowed me to mount depthfinder where it needed to be out of the way,and readly visible
Top Question & Answer
Q: I don't understand the review that said ii fitted a 1.5 ram ball. Doesn't this fit/screw directly to the installation point why would you need a ram ball?
A: Hi, This is in the event that you want to attach this to a track adapter rather than a flush or deck mount. There are two separate sizes a 1 and 1.5" ball depending on the device you are using or need.
2
people
found this helpful.
Q: Can i buy this and switch the bottom out with a 1.5 inch screwball/might bolts? As well as put it on my feel free lure 10?
A: Absolutely. To mount a fish finder on a Feelfree Lure kayak, we would recommend getting the 1.5" YakAttack Screwball with MightyBolts and the YakAttack Feelfree Track Adapter. Those two items would make the RAM Mount for HELIX 5 Fish Finders compatible on the Lure.
Q: Hi. 2 questions; how long is the arm peice of the mount, and what exactly comes with this purchase? Does it come with the ball mount?
A: The arm piece is 5.625". You are receiving all 3 parts that you see in the picture: the base, arm and platform.
Q: Good evening, the description states it is for a Hummingbird Helix 5 series, when you click on the fit quite it does not list the Helix. I have the Humminbird Helix 5 DI Sonar/GPS Combo, will this mount work for it?
A: Yes it will
2
people
found this helpful.
Q: What all hardware will I need to install this on the center console of my kayak?
A: you will need some #10-32 bolts, and well nuts
Q: Will this fit on a Moken 12.5 of the center consol? Im new to kayak fishing. I haven't got my kayak but I will and im researching a lot of specs and info right now so I know what I want for it.
A: Yes, it can be bolted on to the center console of the Moken 12.5.