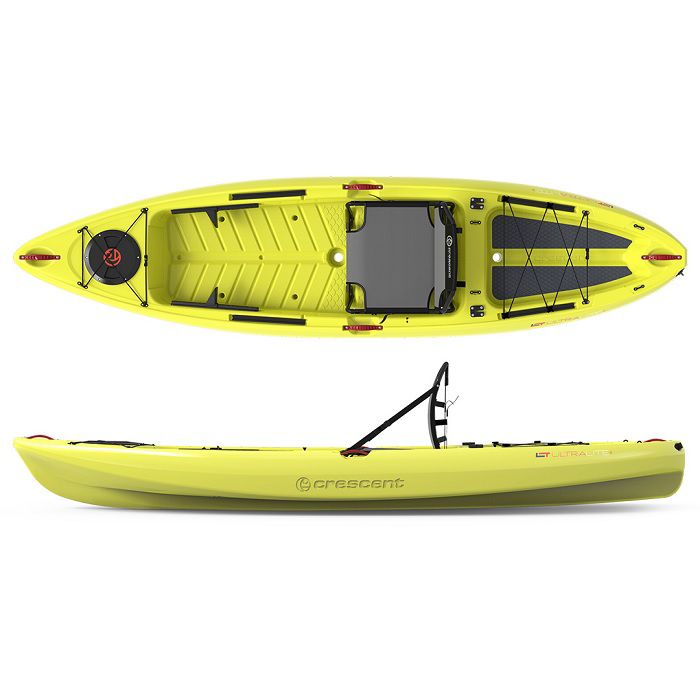 IMAGE ZOOM VIEWER CONTROLS
Click to zoom in or click
Double click to zoom out or click
Click to reset image
This model is no longer available.
Sku#: ACK28105P
The UltraLite is the 10ft fishing kayak worth owning. By utilizing our patented and highly engineered hull system that features a full length keel design, its small size does not compromise stability or paddling performance. The UltraLite"s lightweight construction makes it easily transportable to remote locations, and its compact design is maneuverable in small, tight areas creating a kayak ideal for creeks, rivers, and bays. The performance and comfort found in the UltraLite make this an excellent kayak for anglers and non anglers alike. Small, fun, and as close to the fish as possible, this is UltraLite fishing. Made in the U.S.A.




Injection molded handles
Yak-Attack gear tracks
Patented, stable hull design
Two Yak Attack Mighty Mounts
Large tankwell for cooler or crate
Discounts and/or coupons do not apply to this item
| | | | | | |
| --- | --- | --- | --- | --- | --- |
| Length | 10 ft 2 in / 3.1 m | Width | 30 in / 76.2 cm | Weight | 46 lb / 20.87 kg |
| Capacity | 350 lb / 158.76 kg | | | | |
California Residents:
About California Proposition 65
California's Proposition 65 entitles California consumers to special warnings for products that contain chemicals known to the state of California to cause cancer and birth defects or other reproductive harm if those products expose consumers to such chemicals above certain threshold levels. We care about our customers' safety and hope that the information below helps with your buying decisions.
We are providing the following warning for products linked to this page:
WARNING: This product may contain chemicals known to the State of California to cause cancer and birth defects or other reproductive harm.
For more information regarding Proposition 65, please visit the California State's website regarding Proposition 65 Here.
By:
app1mkj
Date:
Jan 16, 2020
Outstanding Kayak - easy to transport and handles great on the water
By:
Kursah
Date:
Nov 17, 2019
TL;DR: Excellent kayak! Excellent brand! Wife and I spent the past three years paddling a couple of Perception Sound 10.5's. They brought us a lot of fun on the lakes, ponds and rivers we ventured out into. They were stable, easy to carry, and could take an extra dog or kid along with gear fairly easily for a small kayak. We also really enjoyed fishing from them. Enter Summer 2019, I happened onto a video about this kayak from Headwaters Kayak YT channel. After months of research, comparison, and no way to demo went for it. Best decision I could've made over all the kayaks I could've chosen. This thing is noticeably longer, wider and heavier than my Sound 10.5, I use a C-Tug to get it around. Mine is a bright orange known as Tangerine, hopefully ACK will be able to carry that color because its amazing and great for visibility. Citron is impressive as well, as is Aqua. The Lite Tackle is a great paddling kayak first and foremost, the hull design is one of the key points. This kayak tracks well and glides, has a great cruising speed, can handle all sorts of water. Top speed is also surprisingly good, and it has a transom for a small trolling motor at the rear. You really feel your paddling is effective here, and buying this kayak really emphasized me getting my paddling method locked in. Made a nice difference, so did a lighter paddle after putting on 5-6 miles in a day. The position you paddle from is lower than many sit-on top kayaks and the seat is not adjustable. This can be problematic if you have sore/bad needs as you're in a low position to stand from. This is doable, and some folks add a strap to assist with standing. The seat is quite comfortable and adjustable, it benefits from a kayak style PFD as well, this seat is the same design used across the Crescent line, at least in 2019 and going into 2020. Being a metal frame and mesh material keeps it breathable. There is room on both sides of the seat for tackle boxes, also under the seat. I also stash my Contigo 20oz hot/cold mug under the seat through one of the leg holes. Keeps it accessible and out of the way while paddling. I've done quite a few day trips without issue, though after a couple hours I gotta stand, whether its on the kayak or shore. The seat is only held in by a couple of straps at the front corners, but due to how it notches into the deck, that works fine in conditions I've gone out. I've leaned this kayak over pretty far to test its roll-ability and the seat stayed put. I imagine going too far may cause it to pop out. I am debating adding two more straps for the back corners. Next to the front corners of the seat are two zippered pockets with two storage areas hidden behind them. They're decent sized and their main role is hull strength, but kudos to Crescent for making them storage friendly. I usually put some extra string, bobbers, leaders, small garbage, tangled line, etc. other gear behind the pockets and the zippered pockets for tools and cell phones. Works great. I didn't think I'd user these, and honestly I use them every time I go out. The material is the same as that of the seat, which is cool, but make sure you cell phone can take water if you're going to store it there. The foot pegs are great in this kayak as well, and to get good cruising speed, maneuverability, top speed, etc...really be able to paddle this kayak you need to adjust them and use them. They're easily adjustable, easy to keep clean, strong, and so far quite durable. You'll be able to easily adjust for most folks short to tall, super tall can take the pegs off and go to the end of the deck platform, but you'd have to be quite tall, I'd say over 6'6". Because you sit lower you feel really in control with the kayak, you appreciate its hull design, which again is the priority of this boat. Your paddle performance is quite good in all conditions, including wind, because of this. Don't expect this kayak to hold as well as a kayak with a rudder, but due to the large and strong keel design, the Lite Tackle does track quite will in most all conditions. The hull design emphasizes a strong central keel design bow to stern, The Lite Tackle utilizes a little more than that but it all really focuses around one strong keel. This helps with the tracking. The central bottom area under where you sit and stand is quite flat at the very bottom with the hull still being quite curved. This lends to great gliding/cruising and top speed. The rocker'd shape helps this craft go over waves and allows for higher maneuverability. This also leaves a big flat secondary, which provides stability. It also spends more of its time over water or only just in the water, which helps keep this craft very agile and nimble for its size, yet when leaned on provides big buoyancy and stability. This is also what provides that extra stability to be able to stand and fish or paddle. Is this a floating dock? Hell no it isn't, it'd be slow and bulky on the water if that were the case, which was one of my biggest turn offs to other fishing kayaks. Since I wasn't going with a trolling motor or pedal drive, I wanted great paddling performance even if that meant I wasn't able to stand as much. Folks may find this isn't the most stable fishing kayak to stand on, and if you're looking for that big super flat stability, you may want to keep looking. That being said, I've stood on and paddled across lakes, I've fished. I have never used a SUP so I'm still learning to stand and trust my going-on-40 knees more. I haven't fallen and the secondaries do provide a sense of stability. Because of the hull design you have to be decent at balancing, what I found is if I flex my more when I'm feeling unstable I'll usually level out and stabilize. Makes sense too. As soon as there's wind, current or waves I'm sitting back down. If you want a kayak that paddles well, is stable enough to stand on, but unstable enough to allow for great maneuverability, this one really has found that sweet spot. I wanted a kayak that was as fun to paddle as it was to fish from, the Lite Tackle nailed it. Hands down. The rocker'd design also helps for turning more quickly than one would expect from a kayak pushing over 12ft. Especially a large, sit-on top fishing kayak. It is really amazing how easy it is to lean a little and do a 2 swoop to 180 degree turn with something this size. Going fast, going slow, in waves, in the river, this thing handles amazingly well. In-fact I feel confident saying the Lite Tackle is faster and more maneuverable than my Perception Sound 10.5, at least with my inexperienced paddling. It also cost twice as much. The Lite Tackle's decision to go with a console-less deck is one of its best features...having it clean and clear is great. This provides room to sit how you want, load up with extra gear, or quick grab gear, have a dog or extra person up front, it really is up to you. With 3 scupper holes (good plugs included) you stay dry and quickly drain when needed while paddling along. The texture on the plastic has been just fine though I do hear foam floor pads are happening in the future. Having room to move around is great. Word of warning, in this kayak you do want to make sure you have decent knees or plan to install a standing strap to stand. Because you sit so low, The plastic overall is of great quality, thick, strong, durable. Which is great. The manufacturing process is rotomolding, and these guys really excel at at it. Everything feels of high quality. Fit and finish on mine is pretty good as well. The logos are well done whether molded or silk screened. The front storage access is a rotomolded lid with seals, held down by the bungie. I do wish there were a lock system, but it stays down well and provides HUGE access to a large storage area. I fit my C-tug and all sorts of gear in there. Due to a high number of through hull kiss-offs to keep the plaftorm stable, be careful running rods under...they also help keep rods aligned and in place. This kayak will see some expeditions for sure. The rear tankwell storage is massive. I fit my fishing crate, crate-sized soft cooler, and a large dry bag back there. The in and out of boat storage is just insane for a kayak this size, great option if you want to go camping and do distance floats. The tracks and mighty mounts are great for gear mount options. And to adjust the rear tankwell bungies. They really thought these out well and I find them quite useful for fishing with my Yak Attack gear. There is no paddle park, but a Yak Attack paddle park that goes on the left rail work excellent, can use the front lid bungie or just near the front handle to rest on, problem solved. The kayak is heavy, and long, being front heavy as well. Even with the bolted in handles at the sides near the seat it isn't easy to carry solo. I recommend a C-Tug to roll around. I've seen people car top this kayak, I load it in the back of my old Chevy truck with a 6'6" bed and a ratchet strap through the front handle. Works great. I use a 220CM paddle, but I could see folks using a 210 or 230 depending on how tall they are. Make sure you get the right paddle and have a good one! This kayak will take you far. It won't keep up with true 14'+ expedition kayaks, but it'll leave most other fishing kayaks in the dust. I cannot say enough good about this kayak. Is it perfect? No, I bet future versions sold here will have some updates and changes, and I applaud Crescent for continuing to improve their products. James and his crew are absolutely amazing people and I will gladly support their business and all-American made products. I also must again give props to Dan at Headwaters Kayak, his YT channel and replies to my inquiries really helped sell me on this kayak, and get it on my radar. I was initially looking at Bonafide SS123 and RS117 along with some others from Feel Free, Vibe, etc. I have zero regrets.BUY ONE NOW! Happy paddling and tight lines!